Transition Horsham Community Allotment 2013
February 2013
Luckily it was a mild day, no wind or rain, when we arrived at Newbridge Nurseries around noon to take down the 6x8 shed that had been given to us by the Nurseries.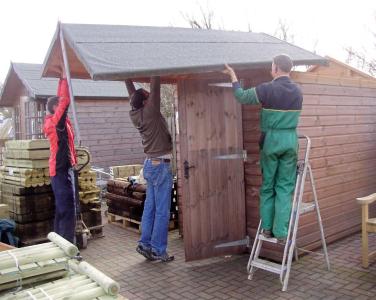 Six of us were met by Nigel Wait and pointed in the direction of the shed. We were thrilled to see a sturdy big shed with three windows and absolutely ideal for the Community Allotment. But how to take it down? The screws were well sunk into the woodwork and we were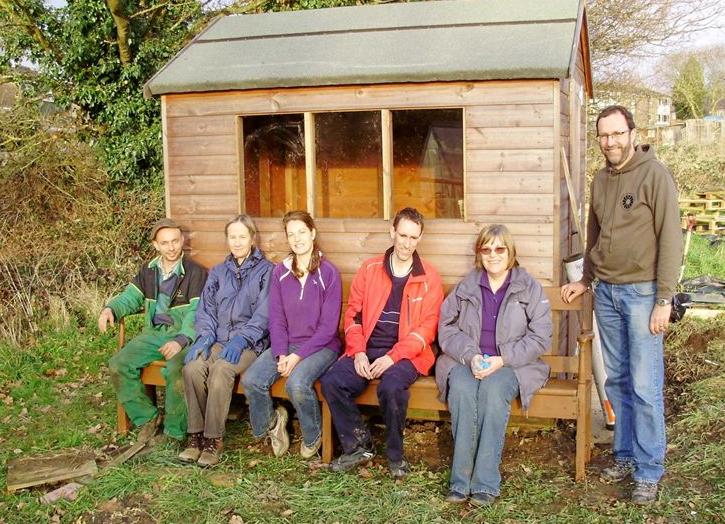 filled with doubts as to how and where to start. Enter Ben Flitney with his tractor, trailer and a friend with power screwdriver, both were totally unfazed with the task in hand, and we were so pleased to see them! First to come down was the roof, and then it was all systems go as the screws yielded and the sides came apart. We piled the pieces of shed onto Ben's trailer, heavy work, and off to the allotment, popping by the Friends Meeting House to pick up a lovely 7 foot bench that the Quakers had given us for the allotment.
Discussion raged for about 10 minutes on where to site the shed. Decisions were made giving due consideration to the siting of trees, pond, sun and compost heap, sadly Adam's broad beans lost the argument and were moved to a nearby bed to accommodate the shed. Then the work began to erect the shed, the site levelled, slabs and sleepers put deftly in place and the fun began to put it all together. Amazingly we did it all before the sun went down, a really good job, and it just goes to show what can be done with a good team of allotment enthusiasts and the generosity of a local people.
March 2013
Adam has dug another fruit bed and taken advantage of several special offers on fruit and filled the bed. The first lot was a collection of three columnar trees, an apple, pear and cherry tree. A week or so later he obtained a collection of two gooseberry bushes, three raspberry canes (different varieties) and five strawberry plants. These went in during atrocious weather when the weather was so wet the ground on which the greenhouse sits was flooded, not ideal but couldn't be helped. They all seem to have survived the ordeal anyway.
April 2013
The last lot of fruit we ordered arrived which consisted of a blackcurrant, redcurrant and whitecurrant bush, a couple more raspberry canes and more strawberry plants. The fruit bed was expanded a little to make room for everything but we just about got it all in, although some bushes may need moving further apart next winter. On the open day (6th) we (Alison, Maggie, Helen, Valerie, Trevor and Adam) managed to get the shed painted, constructed a raised bed out of pallets and dug over one of the existing beds. This morning (20th) at the work party Helen finished off the shed painting and dug over another bed whilst Valerie, Benny, Tim and Adam collected some unwanted paving slabs from a friend of Adam's who is having a new extension and patio. These can hopefully be used for the seating area..
May 2013
Potatoes have been planted and Adam continued to dig beds, Ben mended the compost bins and strimmed the site. Helen and Alison weeded the greenhouse and the old fruit area where the rhubarb is doing spectacularly well. We were delighted to have been given a selection of hand tools and a hose by one kind Horsham resident, and then the following week another kind resident gave us a selection of large pots and a small plastic greenhouse. All accepted gratefully. More gifts came from nearby when we given some terrific tomato and aubergine plants and so Maggie planted these in pots in the greenhouse. It is all gradually coming together. The next working party will be on Saturday 1st June in the afternoon.
June 2013
The allotment group has some really good news, firstly Southern Water has given us the funding we asked for in order to get water harvesting guttering on the shed and greenhouse, plus other essential tools. It's a big vote of confidence for the community allotment project. Secondly we are going to have a summer get together – so put the date in your diaries now – a barbeque on the evening of Thursday 25th July, 6pm to 9pm. There will be an invite and RSVP going out soon.
On the allotment things are growing – potatoes, runner beans, spinach, broccoli, herbs, and in the greenhouse tomatoes, aubergine and lettuce. The good weather is great but it has meant a lot of watering. Next working party will be Saturday 15th June in the morning.
Late July 2013
Things are shaping up nicely on the community allotment, the courgettes are producing well, the vegetable spaghetti squash is developing fruit and the tomatoes in the green house have lots of tomatoes that are beginning to ripen. We also have two actual aubergines on the plants. Watering in the greenhouse has been demanding but with the help of Ben we now have a water saving system of guttering and water butts which will help enormously when we get some proper rain. Outside on the plot we have planted runner beans, leeks and broccoli and are starting to dig the potatoes. The spinach is good but not much of it has been used which is a shame.
Last week we were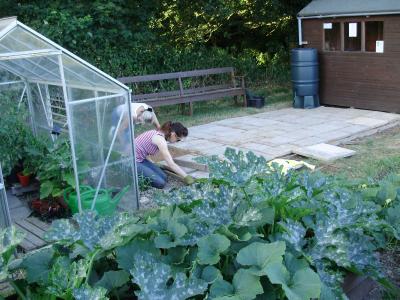 focussed on preparations for our first barbeque. We were very grateful to receive the offer of free paving from Phil of Far Plants. We jumped at the offer, and these with discounted and delivered sand from Newbridge Nurseries meant that Wednesday evening saw some of us, Helen, Sarah, Adam, Alison and Maggie set about laying a patio area between the shed and the greenhouse. Despite not having done anything like it before we managed well and in time for the barbeque on Thursday night. A good number of friends attended from the allotment site, Transition Horsham, Quakers and others. The weather remained kind to us and it was a lovely event which is bound to be repeated.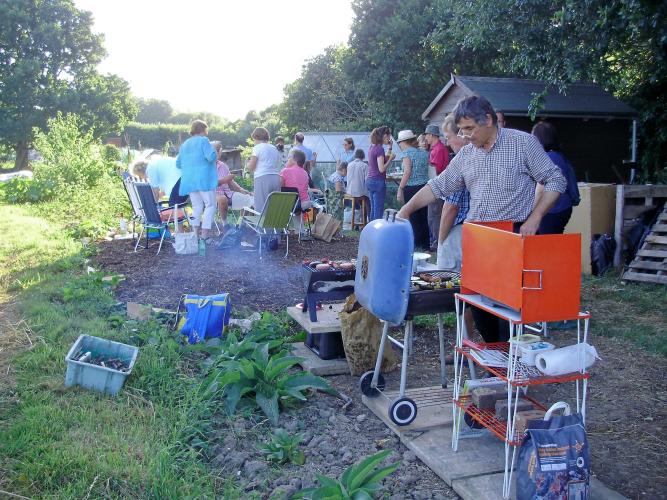 New working party dates are now out taking us into the autumn. We have decided to keep it to Saturday afternoons, 2.00pm to 4.00pm, again the first and third Saturday of the month, so 3rd and 17th of August, 7th and 21st of September and 5th and 19th of October. If you would like to join us just email us at: allotment@transitionhorsham.org.uk