Past Events
10th February 2018
Horsham's Seedy Saturday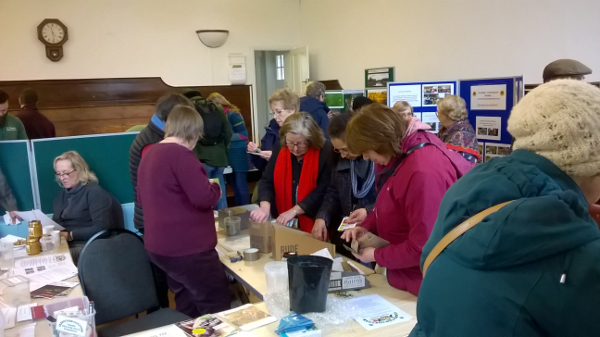 Although it was cold and wet outside on Saturday 10th February it was warm and friendly inside at Transition Horsham's 9th annual seed swap. We had one of our best attendances ever and lots of gardeners had saved their own seed to bring and swap. We were lucky enough to have Jean Griffin, gardening expert from BBC local radio Sussex and Kent, to open the event with encouraging words, and then to answer lots of gardening questions. Around the hall we had stalls from our two local nature reserves, Warnham and Chesworth, the latter having a fascinating dissection of owl regurgitations. We also had representation from New Friends of Horsham Park who were offering sponsored bird boxes and telling people all about their plans to help the Park become better than ever. Sussex Wildlife Trust was there with Brinsbury College and Horsham Horticultural Society to talk about and promote their organisations. There was a sustainable theme, not only through seed saving and swapping, but from the new Horsham Repair Café which opens at the Quaker Meeting House on the first Saturday morning of every month. Groundworks also offered lots of advice on energy saving and related subjects. We had Wimblehurst Chocolates there with their lovely local chocolates; the little chocolate dinosaurs were very popular and quickly went extinct. As usual everyone enjoyed the homemade soup and bread, or tea and cake. Finally, a raffle brought the event to a close with very generous prizes from the stalls. A really enjoyable community event and a good start to the gardening year.
18th February 2017
Eighth Seedy Saturday Success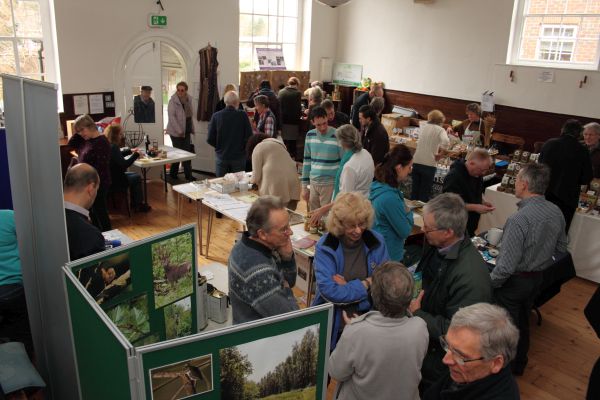 The lovely spring weather brought out Horsham's hibernating gardeners to the 8th annual seed swap at the Friends Meeting House on Worthing Road. In addition to the usual search through heaps of seeds, subsequent swapping and the telling of gardening tales, there were other stalls celebrating Horsham's natural environment.
This year we were lucky enough to have Nicola Peel, local environmental activist and solutionist, open the event with words supporting the collection and sowing of local seed. She also had a stall selling lovely jewellery, bracelets and necklaces, all made from seeds. Sussex Green Living, established by Carrie Cort, one of Al Gore's Climate Reality Leaders, offered upcycled garments and bags. To catch one of her great workshops, check out the Sussex Green Living website.
Warnham Nature Reserve, along with Chesworth Farm, represented our open spaces with photographs, membership offers and chat. Horsham in Bloom were there in partnership with Horsham Horticultural Society, and of course Horsham Organic Gardeners partnered with the initiators of this event, Transition Horsham. Southwater Horticultural Society put on a good display of their collected seed to be swapped for a donation. This year we also had Heather Glenny, RHS trained botanic artist, selling her cards and her book of flowers from Horsham Museum Garden.
The local Flax Farm had a stall with everything flax related including their delicious flaxjacks. Brinsbury College was back offering its horticultural and agricultural courses and we had a new stall from Groundworks, offering free energy audits of homes and lots of hints and tips for saving energy, hopefully we will see the again next year.
We had a good friendly turnout, with lots of gardening talk and networking, assisted by homemade soup and bread, or tea and homemade cakes. The raffle added a final bit of excitement at the end of the event.
9th December 2016
Meeting with local MP Jeremy Quinn
On Friday 9th December 2016, the Transtion Horsham energy group gave a presentation to our local MP, Jeremy Quinn, titled Climate Change and Sustainable Energy for Horsham. A copy of the presentation slides can be found here.