Transition Horsham Community Allotment 2021
Winter 2021/22
This year (2021) the Friday work party only stopped for 1 week over christmas. We also worked on the Unitarian Church garden. The weather didn't stop us.
What we have done?
We moved the fruit cage and installed edging to help keep the weeds out.
We put plants around the pond & stones to help frogs and other creatures get in & out.
We tidied up and added manure which we collected from a kindly donar
We replaced 1 rotten raised bed with 3 new ones and transplanted the strawberries.
We cut hazel sticks to use as canes this year (2022).
We planted 3 Apple trees. They are all local varieties.
They are cordens so we can keep them pruned so they don't take light.
At the Unitarians we have cleared some brambles and sedge and put in some new paths.
We also had a plaque made out of slate for our shed made by Rose.
A good winter's work!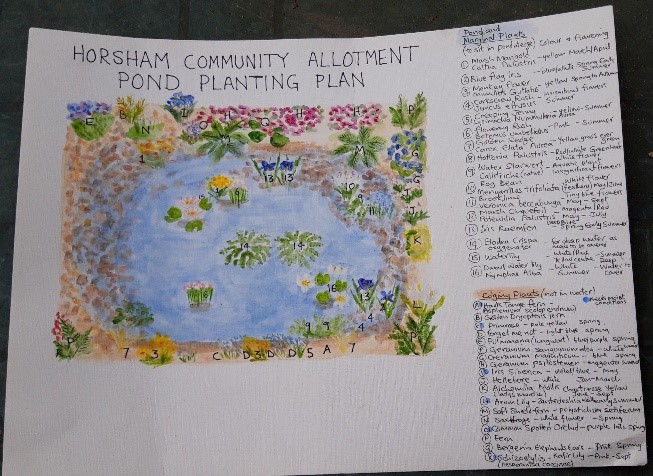 August
This month we had visit from 13 young people volunteering for National Citizens Service. Some of them hadn't had hands on experience in a growing environment before and were fascinated by the insects they found whilst weeding paths, turning compost and clearing an overgrown area. We hope it has inspired some of them to grow their own vegetables and flowers when they get the opportunity and the plot certainly benefited from their time and effort.
Thank you NCS Horsham!
Unfortunately, the SE this summer has borrowed the climate of the Shetland islands and it is only in September we have managed to return it to its rightful owner. The highest temperature of the month was recorded in Scotland, and Heathrow had its third dullest August on record. We were one of many growers this year to experience tomato blight. It has been very wide spread following the persistent very dull, wet and mild weather conditions and we lost all of our tomatoes both outside and in the greenhouse. Next year we might try a belt and braces approach of growing a blight resistant variety (and hope we don't get such a poor summer next year).
We held a lovely summer barbeque during the three days of summer we got so we could all get together and enjoy some of the fruits of our labours. Potato salad and grilled courgettes were on the menu and lots of friendly banter and discussion on what we had done this year and planned to do. Luckily the sun shone (and used up our ration for the month) and it was warm after we had to cancel the event due to bad weather the previous week.
We have been harvesting leeks, peas and potatoes, courgettes a plenty despite the slugs waging war on a couple of the plants. The heritage beans have done well (despite being blown down) and we have managed to save some seed to replant next year. The flowers have been a hit, with everyone taking home bunches for the house or to give away. We are sure we have had more beneficial insect visitors to our plot and also more pollinators.
We welcome Rose to our group who brings with her experience of gardening and we look forward to sharing our experiences too.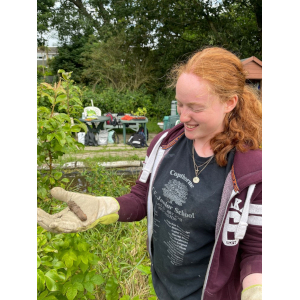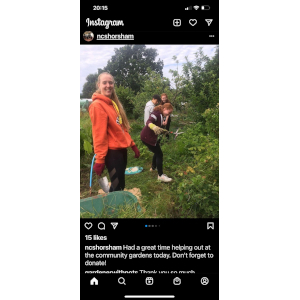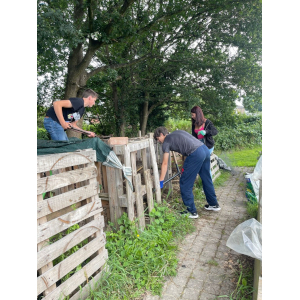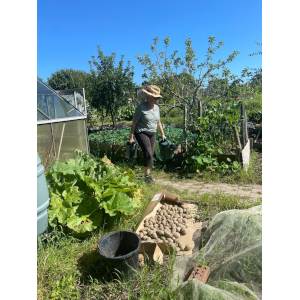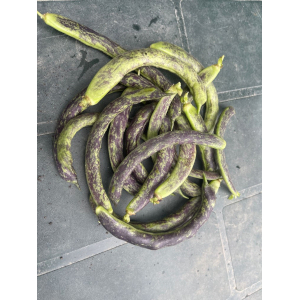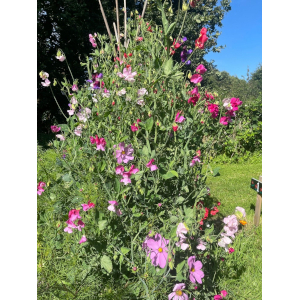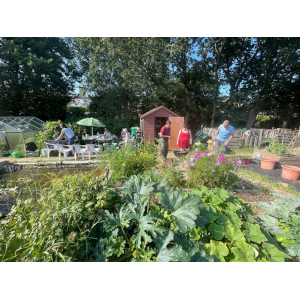 July
Chris and Matthew have been working hard clearing Bed 11. It was once covered with weed suppressing material but over time the weeds had grown through and it had become infested with couch grass and nettles. With now bare ground that has been recovered, this will hopefully give the fruit trees a chance to get some nutrients from the soil. They have also had a shed tidy up, a regular and important maintenance task.
Jayne has been researching plants for the pond at Hampton Court Flower Show and come up with a number of suggestions. We are being cautious to avoid anything that might become invasive and will discuss the pond planting at a later meeting.
We had a heatwave for a time (a week) and arranged a rota for people to water daily. July became the 5th warmest on record for the UK and the hottest ever on record for the world as a whole, although SE England endured three weeks of autumn aside from the heatwave. Our plants are having to tolerate quite some extremes (and deal with an armada of slugs and snails thanks to the mostly cloudy damp conditions) and I think it will be important to choose certain varieties of seeds to produce plants that will tolerate such conditions to have better growing success (and apply slug nematodes in the spring).
Along with copious amounts of water we have fed our tomatoes, chillies and peppers weekly with a high potash fertiliser. So far so good with growing them in the mini polytunnel and the plastic structure has even stood up to high wind conditions.
The flowers that Judith has grown are flourishing. We can now take home or give away lovely bunches of sustainable flowers. Sweet peas (amazing scent), cosmos, zinnias, asters, snapdragons (from seedling Saturday) and ammi. This also increases biodiversity with plenty more bees, butterflies, ladybirds and other beneficial insects being attracted to the plot.
The broad beans gave us a reasonable crop although if we repeat an autumn planting we will protect the crop with mesh as an insurance against extreme weather. Also cropping we have spinach, courgettes, kale, potatoes, cucumber.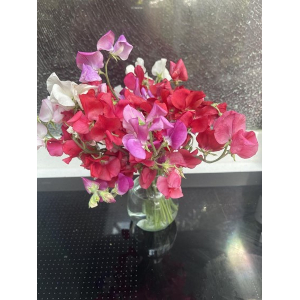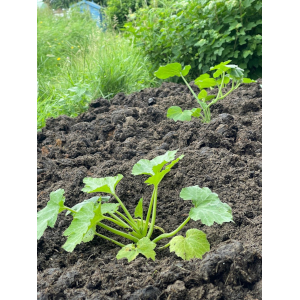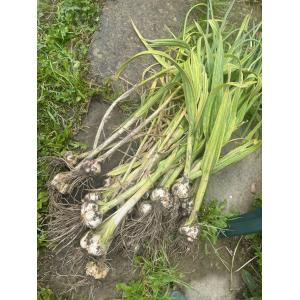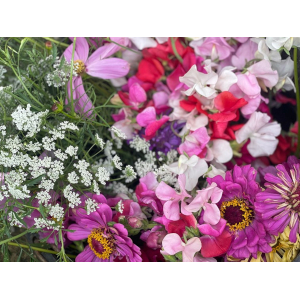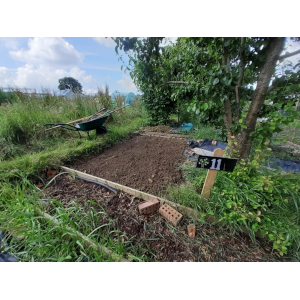 June
With the beginning of June and the risk of frosts behind us we began to plant up our newly cleared beds. We had made a plan of the allotment and numbered all the beds with colourful, bold labels and now worked to the plan we had made for crop rotation.
June started off warm and sunny, but the second half has regressed into November. It feels like it will be Christmas soon with the lack of sunshine and rainfall well above average in the second half of the month. Some parts of the SE have had up to 200% of the average rainfall in June despite very little rain falling in the first 15 days of the month. In contrast, everywhere else in the UK has had well below average rainfall. This is causing problems with slug damage as they relish the cool damp conditions.
We are now meeting three times a week, a first for our group, also once a month at the Unitarian Church wildlife garden creating a wildlife corridor.
We have built a mini polytunnel over one of the raised beds to try and extend our growing season. It is now planted up with lots of tomatoes and it will be interesting to see how this new area evolves.
The fruit cage has been installed! Chris and Alison had a large part in this, there really is nothing like an Ikea type flat pack to challenge the brain cells, but we got there in the end.
Our vine has developed a leaf problem. On looking this up it would appear to be grapevine blister mite. Luckily this is mainly just an unsightly problem and doesn't affect the fruit or the health of the vine so we can look forward to some tasty grape juice later in the season.
Squashes have been planted out in an area that hasn't been cultivated for a while. We dug in some manure with each plant and covered the soil with a mulch of manure for good measure. Squashes are heavy feeding, hungry plants.
We have started cropping our overwintered broad beans which are delicious. Also cropping are garlic, strawberries, rhubarb and kale.
We welcome Sam who has already made himself very useful and say farewell to Jenny who may yet revisit us.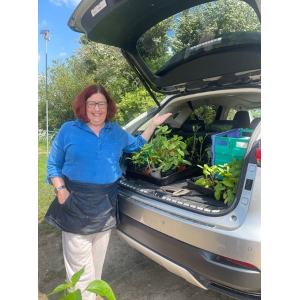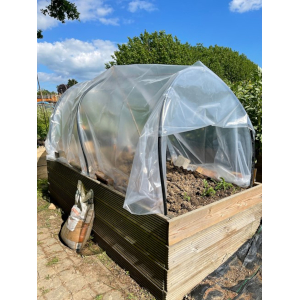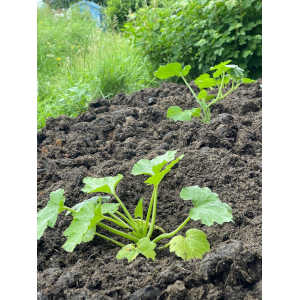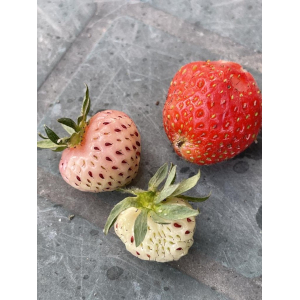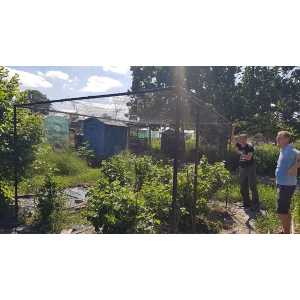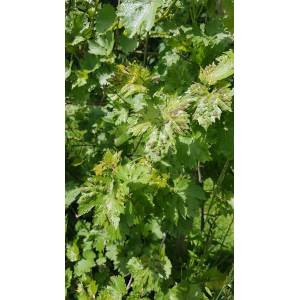 May
So this years theme is strange weather. May saw record rainfall, so that the rain we missed out in April was more than made up for, with around 150% of average levels this month. Our poor plants don't know what's hit them. The autumn sown broad beans have suffered, and now have Chocolate Spot fungus. They are now a victim of the weather, although hopefully we will get some crop, and next time around we will cover them to protect from the worst of the weather extremes.
Chris, Matthew and Adam finished the compost project by adding a third bay to the two that Green Gym built for us. This will mean that we can now store any excess compost for times when we need it.
We were very happy to find a toad on the plot lurking under some weed membrane. Having said hello to him we gently placed him back amongst the plants so he could go on doing good work eating the slugs and bugs.
May 15th was Seedling Saturday which was a first for Transition Horsham. We were very heartened by a steady stream of many visitors to our stand in the Carfax bearing a huge variety of seedlings, and even some seeds. Much gardening and growing chit chat was to be had, and even a short rain downpour didn't dampen our enthusiasm. Thank you to everyone who participated and made it a real success.
Lots of preparation of newly cleared beds has happened so that once the risk of frost has ended we can plant out our seedlings. Sweet peas have been planted which will add some variety to the vegetables we usually grow and hopefully provide some decoration and scent back in our homes. The relaxing of pandemic rules means we have been able to have more on the plot at any one time and we are now running three work parties a week. We also welcome new members Aisha and Davinver. Happy growing.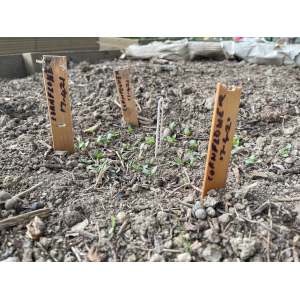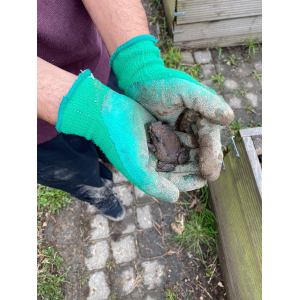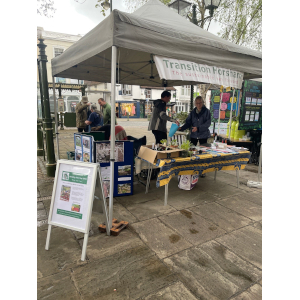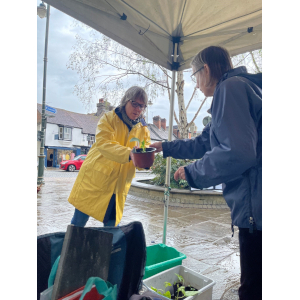 March/April
To say the least, the weather has been notable. March saw the warmest day in 53 years at over 24.5C. April was also record breaking with an average of 8 hours of sunshine daily, smashing records set in April 1974. It was the driest April since 1974. This was coupled with clear and cold overnight temperatures (thanks to persistent northerly winds) making it the frostiest April in 60 years. 'April, the month that thinks it's January', our weather correspondent writes (So far the May central England temperature is similar to March - Ed).
So we have been watering various crops on the plot and by the end of April our many water butts were almost dry. The pond level has also dropped and may need topping up if decent rainfall doesn't happen very shortly. Speaking of the pond the newts have returned. Lovely to see wildlife taking up residence. To boost our crops and get the most from them we are feeding the soil with a product called 'Dug'. It is an organic fertiliser with a 4:4:4 NPK ratio which will hopefully bring up soil nutrient levels and help improve the soil condition.
More background homework has been going into building the fruit cage; finding plans, checking the netting we have, lot's of thought analysing how everything fits together and last but not least weeding the area where it will be installed and replanting fruit bushes.
Work has started on the new flower and herb beds, finally removing some of the weed membrane and beginning to plant out or sow; chives, sage, sweet peas, calendula and cornflower. More tender seedlings are waiting in the wings for when all risk of frost has passed.
We have had a number of new members join us this month. Welcome to Cristian, Maria, and Jo! We are still working within the government's pandemic rules of 6 people meeting together outside so are arranging 'shifts'.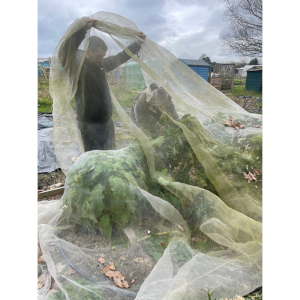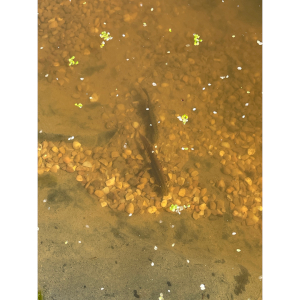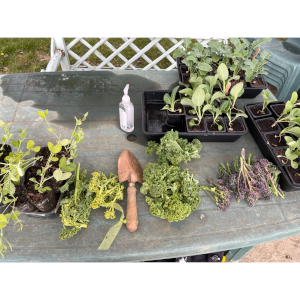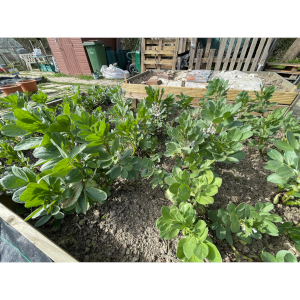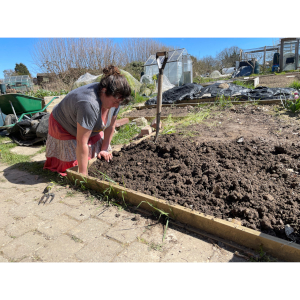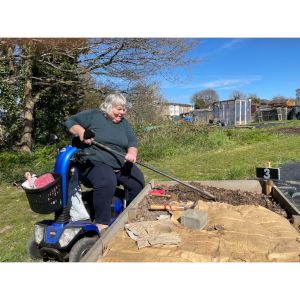 January to March
January was cold and wet so digging was kept to a minimal as the soil wasn't very workable. February saw a long cold snap with snow (by Horsham standards - Ed) so despite being 'open' it was difficult to achieve anything major. Adam did however do a great job of reconnecting and adding taps to all the water butts so we are well set for water for the summer droughts (no we are not, we have run out of stored rainwater because it hasn't rained properly for over a month - Ed). In February Adam and Jayne pruned the apple and pear trees. We have also been quite restricted by the pandemic rules and only 2-3 people are allowed on the plot at any one time.
From 29th March groups of up to 6 people will be allowed to meet outside which will help our work party numbers this spring.
Jenny made us some lovely number labels for the different plots. Now we have grown so much (pardon the pun) it will be very useful to identify what is where. The labels even have beautifully painted illustrations of vegetables and fruit.
The pond is generally thriving and the old frog inhabitants have rediscovered it and laid frog spawn. Over winter Chris and Matthew lined the pond with chestnut, elm and oak to help it blend in. They also added some wire mesh at one end to protect the newly laid frog spawn from birds. Along with Alison they have also been cleaning and checking our tools, a great off season job!
Several people have started growing seeds for the plot and planting of potatoes and carrots has started in the ground along with spreading of compost which we can now easily access.
Leeks have been harvested and we are now cropping the purple sprouting broccoli. The overwintered broad beans have come through very well and we look forward to eating them soon.
In the ground we have: garlic, broad beans, purple sprouting broccoli, leeks, rhubarb, potatoes, carrots. As the soil warms and risk of frosts disappears, we will be able to plant out more. We also look forward to building the fruit cage and growing more fruit.